18 July 2023
We are delighted to welcome Sadie Jackson to our financial team as the  Finance Business Partner. This new role has shown itself to be essential as our business grows, and finding the right person has been critical.  This role is very much a multi-faceted one bringing together the financial details of all of the different business units of Adapt Biogas and creating sufficient data to satisfy our stakeholders, board members and funders to analyse. With Sadie's' help, all areas of the business will be able to understand the financial processes and see where money can be reinvested back into the business as well as being knowledgeable enough to make influential decisions on spending within the business and the impact of their own budgets.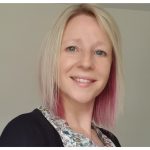 Sadie's experience
Sadie recently joined the Adapt Team and already had an exceptional experience in finance and accounting behind her, within the food and hospitality sector in the past. As an ACCA-qualified accountant, she has been able to build up her experience through working in practice and within a corporate setting. It also helps that she loves the environment too, so Adapt, with its renewable energy expertise, is the perfect fit. She is a Fellow of the ACCA with over 17  years post qualification experience. So, we are very lucky to have her within the business as the Finance Partner.
Joining our financial team based at Somerset Farm in Murrow, Sadie will be working across the Adapt Biogas portfolio, including the plants both in Cambridgeshire and in Somerset.
Spare time activities
When she has some spare time (we are not sure how she fits this all in) she loves to dance and paddle board, not necessarily in that order and has time to spend with her husband and children and has been seen out and about on her roller-skates (a childhood hobby  revisited during lockdown!)
So welcome to the team, and we hope you will enjoy working with us down on the farm in Murrow.
If you would like to read about our other team members, please visit our TEAM page here, or for any other advice, please message our social media pages at LinkedIn and Twitter.