The newest addition to our growing Adapt Biogas portfolio.
Evercreech AD is based in Shepton Mallet, Somerset. The 4.22 hectare site is a  gas-to-grid anaerobic digestion site. The site  commissioned September 2022, is fed on waste feedstocks and incorporate three pasteurisation units, three CHP units, four primary digesters and two after-storage tanks.
The plant at capacity is capable of injecting 1,000 cubic metres per hour of biomethane into the gas grid, enough to supply over 8,000 homes and is versatile to handle liquid, solid, semi-solid, packaged and depackaged waste streams.
The site located on a local industrial estate will massively decrease business food waste which is currently sent to landfill, whilst contributing to green gas production.
"The addition of the Evercreech plant to the Adapt Biogas platform is a significant step towards Adapt realising their growth ambitions and becoming an important part of a growing sector that is expected to play a critical role in the UK's plans to reach net zero."

Patrick Ottersbach

Managing Director at Macquarie Capital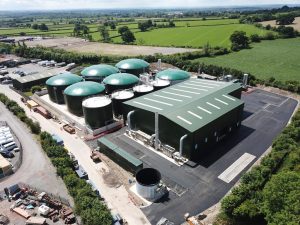 Read our latest news blogs for updates about the Evercreech AD plant and other Adapt Biogas news.