19 October 2022
As our team continues to expand, we wanted to ensure you knew a little more about some of our existing team members, who are essential to Adapt's success in anaerobic digestion.
So, we asked some questions:
This month, let's welcome our Finance Director – Jenny Darroch, to the blog!
How long have you been with Adapt Biogas?
I started with Adapt in June 2020, so a little over two years now.
What is your role within the business?
My role is quite varied and covers finance, HR, IT and general leadership and management. I support our Managing Director, James, in setting the direction for our business, appraising investment opportunities and ensuring we continue to build a great team, as our business grows. Reporting our performance and future plans to our Board is another key part of my role.
Developing our management team is an important part of what I do, as we want them to ready for our future growth and challenges. Implementing processes and procedures that we can replicate across our sites efficiently and effectively is another part of my job, to help provide accurate information and inform better decision-making.
What would surprise us about you?
I am an avid power walker and have taken part in several overnight marathons in London, Edinburgh and Iceland, dressed as a mermaid, disco diva and clown, to name a few! All of these have been to raise essential funds for breast cancer charity on their iconic Moonwalk events.
My biggest accomplishment was to complete a DOUBLE marathon (52.4 miles) in 13.5 hours nonstop for the same charity! It seemed like a good idea at the time! Let's see what 2023 will bring!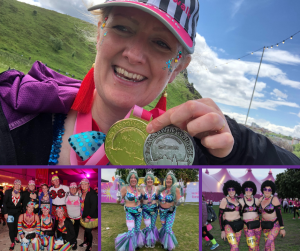 To connect with Jenny, please refer to her Linkedin profile here.
Or review our senior management team page here
If you would like to know more about what Adapt Biogas brings to the renewable energy sector, please follow our LinkedIn company page or contact us at letsadapt@adaptbiogas.com