11 August 2022
Adapt Biogas is delighted to have some of our Feedstock team visiting the Mid Somerset Show on Sunday 21st August. For our Evercreech plant, this is a great local agricultural show close to Shepton Mallet and is one of the most high-profile and respected agricultural shows in the South West.
As we approach the operational opening of our Evercreech plant this Summer, Adapt is delighted to become a Gold Sponsor at this year's show. And are looking forward to becoming a trade stand owner once the plant is operational.
The show has an amazing local and farming history, and our team is looking forward to meeting local food and drink producers, farmers and well as other local businesses.
With The South West Cheese Awards and The Somerset Cider Championships taking place on the day, we hope we will be able to make some great local connections who are looking for a local green food waste partner.
If you would like to meet with our Feedstock team, then please do drop us an email, and we would be happy to arrange a chat at the show!
If you have five minutes, please do take a look here at the Show's history and celebrate its wonderful achievements over the last 160 years; we are excited for Evercreech and Adapt Biogas to become part of their future too.
Our Evercreech plant is the newest addition to our growing Adapt Biogas portfolio and will be capable of injecting 1,000 cubic metres per hour of biomethane into the gas grid, enough to supply over 8,000 homes and is versatile to handle liquid, solid, semi-solid, packaged and depackaged waste streams.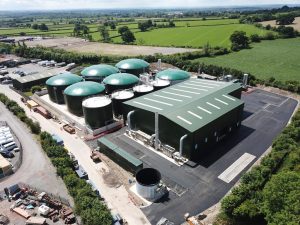 To learn more about the Adapt Biogas Evercreech plant, please visit our website at www.adaptbiogas.com or drop us an email at lets.adapt@adaptbiogas.com to arrange a site visit or to meet at the show.
Show photos to follow….