25 September 2023
We are delighted to share our recent news that has a real community aspect to it.
At Adapt Biogas we are always keen to work with our local community and support projects when they come our way, so when we were approached by the recently reformed Murrow Bell FC football team, to help support the team, we said ' of course we will'.
The original team was formed in 2007 and has always had the local pub, The Bell Inn, Murrow as their base, as a place to drink and eat after games, meet up for any mid-week team meetings and be the match day meet-up point. Sadly, the team folded in 2020, but now in 2023, they are back and raring to go.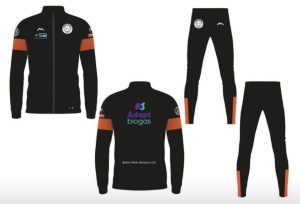 Playing in the Peterborough Sunday League (currently Division 2) they are back in business training every other Tuesday and playing every Sunday at the Guyhirn playing fields.
As a local firm, Adapt Biogas has contributed to the team's pot to provide funds for their team sports tracksuit and warm-up tops. Speaking to the Team's Treasurer, Ryan Chapman, he said how pleasing it is to get local businesses to support such community-based projects.
He said;
"Adapt Biogas has been very generous in its support of our team, and that has meant a great deal to us. We have always used the football team as a way to unite the village in sport and help people of all ages come together and enjoy a Sunday morning at a local game of football. Any other local businesses that would like to support us, please do let us know.
Adapt's contribution has been big news within the team as it was a massive donation we received and helped us surpass our before-set fund target."
Other local and national sponsors include SB Refrigeration, Davis Potatoes, and MAC's Property Maintenance, as well as Apex Electrical Group who are currently working on part of the Tottenham Hotspur facilities and have supported the Murrow team by funding their new home kit.
Jenny Darroch, Finance Director at Adapt Biogas, also added;
"We are delighted to be supporting our local community in this way, to put Adapt Biogas on the local map and for the Murrow Bell Team to make their mark on the football field. We will be keen to follow the team's success for this season and beyond!"
If you are part of a local community project in Murrow or Evercreech in Somerset, home of our other plant, please get in touch, we would love to help if we can. Drop us a line at lets.adapt@adaptbiogas.com