19 September 2023
We are delighted to welcome another new team member to Adapt Biogas Ltd as our Commercial Procurement Manager. Welcome Andrew McFadzean.
"What is a Commercial Procurement Manager?"
We hear you ask, well, we will let Andrew explain in his own words.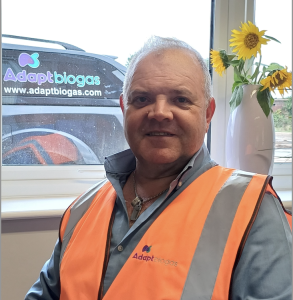 Andrew needs to ensure that the Anaerobic Digestion plants are constantly fed with the right blend of products to ensure the maximum gas yield at the most cost-effective rate for the business.
He will work closely with the plant managers to ensure the feedstock's quality and scheduling meet the plants' requirements and that all feedstocks can be maintained and balanced throughout the year.
Andrew is now a regular down on the farm at Murrow, and he has no concerns about the farm smells coming from a waste background and is accustomed to the outdoors and agricultural scents that come from the feedstocks.
The walk through the cow sheds is one that will take some getting used to as the cows are always inquisitive when our team members pay them a visit when wearing orange Hi-Viz.
Andrew has been in this role for a short while and has already met most of the Murrow-based team and will look forward to meeting the Evercreech team in Somerset in due course. Being able to offer a workable solution to the plant and staff will be a satisfying part of the role. Having the added benefit of knowing it is green energy is being produced as the result is a huge added bonus Andrew reflects on.
He added:
"Logistics and storage are crucial areas of my last role, and I am sure this will be similar working at Adapt Biogas.  I will look forward to continuous fluctuations in the feedstocks that a role like this brings and already can see the interesting challenges ahead for the AD sector."
As a keen snowboarder and mountain biker, Andrew will need to find time to continue these pursuits, being based in the Midlands part of the work whilst managing the two Adapt Biogas plants in Somerset and Cambridgeshire.
Managing director James Thompson is delighted to have filled this role as it is a pivotal one that allows the plants to work effectively every day, he added:
"We are delighted to welcome Andrew on board at Adapt Biogas, and we are looking forward to his positivity and wealth of knowledge around the sector. Welcome!"
We are sure Andrew will soon be in touch if you are one of our current feedstock suppliers, and we hope we can encourage many more suppliers far and wide to work with our team.
For further on our active plants or about the work Adapt Biogas does on a daily basis, then please do get in touch via our LinkedIn or X social media pages. Meet the rest of the team here!